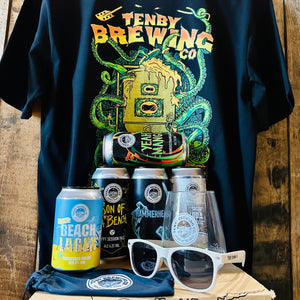 Grab this awesome value bundle for your favourite beer lover and save over £10!
Bundle includes:
1 x Brewed by the beast Tee (100% combed Organic cotton, with top quality screen print from Old Elton's print studio)
1 x branded Schooner glass
1 x 100% Wheatgrass sunnies (with branded pouch)
5 x fresh cans including : 1 x Son of a Beach, 1 x Yeah Mango, 1 x Little NEPA, 1 x Hammerhead and 1 x Beach Lager*
*All cans 440ml except Beach Lager (330ml)
more about the t-shirt:
We are in love with these awesome new Brewed by the beast T-shirts sourced by our friends at Old Elton's print studio.
They are 'Continental' 100% combed Organic Cotton (220g) and feature the amazing 'Brewed by the Beast' design put together by the super talented Jack (Old Elton's) with a 5 colour screen print full size on the back and a chest logo print on the front.
limited stocks apply! 
People who bought this product, also bought